7-day Live Implant Course
Who should attend this course?
• Novice, intermediate and advanced doctors.
• Doctors who would like to place 25-35 implants on patients.
• Doctor who would like to take their practice to the next level.
• Doctors that are interested in learning surgical fundamentals.

Where?
Managua, Nicaragua

When?
January 21-27, 2018
January 28th to February 01, 2018
March 11-17, 2018
Class size?
Limited to 16 attendees supervised by 8 accredited faculty.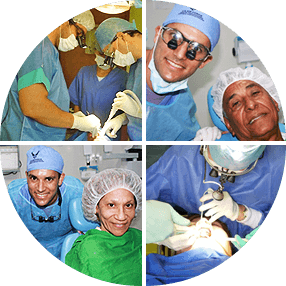 How much and what is included?
Tuition $14,500 includes.

Guarantee a minimum placement of 25 implants on patients.

84 PACE CE hours awarded by the AGD.

Implants, abutments and bio-materials used on patients.

Direct supervision of 6-8 surgeries on patients at your level.

All surgeries will be performed under direct supervision of board certified maxillofacial surgeon, prosthodontic faculty and implant masters.

Fulfills requirements for ICOI Fellowship.

Fulfills requirements for AAIP Fellowship.

Fulfills implant requirements for RCDS in Toronto.

Dr. Mongalo's surgical text book and Blue Sky Bio implant specials.

7 nights at InterContinental Managua at Metrocentro Mall.

Ground transportation (airport, hotel & institute)

Daily breakfast and lunch.
*Not included airfare and dinners.
MISSION STATEMENT
We wanted to bridge the gap between theory and clinical reality. Recognizing that conventional didactic implant courses teach essentials of Oral implantology but at the same time create a void that can only be filled by having licensed dentists learn surgical protocols by operating on patients under direct supervision of board certified Oral maxillofacial surgeons, board certified periodontist and GP's with Masters in Oral Implantology from different European Universities.
Course Objectives
Upon completion of the 7 day course training doctors will:
Understand basic principle on bone biology, Dr. Misch's bone classification according to bone density and alveolar ridge atrophic classification.
Know how to use Dr. Anitra's biological drilling protocol used to preserve bone minerals and as a safety net to prevent perforation.
Review head & neck anatomy as it pertains to implant surgery outlining important anatomical structures.
Understand surgical safety zones and how to avoid surgical errors.
Know how to manage soft tissue: flap designs, incision techniques and suturing principles.
Understand drilling, spacing, angulation and insertion protocols based on "positioning tools", torque and RPM.
Learn spacing rules for single and multiple implant placement in partially edentulous patients.
Know how to correct spacing problems, avoid perforations of buccal wall and of adjacent natural dentition.
Understand prosthetic protocols related to biomechanical distribution of forces and A-P spread for full arch prosthetics: free standing bars, hybrids vs cemented.
Know when to refer case to specialists and comply with surgical standard of care.
Learn when to pre-medicate and what to prescribe post surgery.
Know how to present power point or keynote presentations for the purpose of ICOI/AAIP credentials.
SUNDAY
Lectures & Workshop
4 hours of lectures on surgical protocols

4 hours of 3D software workshop
3 simultaneous surgeries on patients per room
3 simultaneous surgeries on patients per room
3 simultaneous surgeries on patients per room
2 simultaneous surgeries on patients per room
2 simultaneous surgeries on patients per room
SATURDAY
CREDENTIALING SESSION
Doctor who chose to present their cases on Friday may depart on Saturday morning.
November 2017
| Sun | Mon | Tue | Wed | Thu | Fri | Sat |
| --- | --- | --- | --- | --- | --- | --- |
|   |   |   | 1 | 2 | 3 | 4 |
| 5 | 6 | 7 | 8 | 9 | 10 | 11 |
| 12 | 13 | 14 | 15 | 16 | 17 | 18 |
| 19 | 20 | 21 | 22 | 23 | 24 | 25 |
| 26 | 27 | 28 | 29 | 30 |   |   |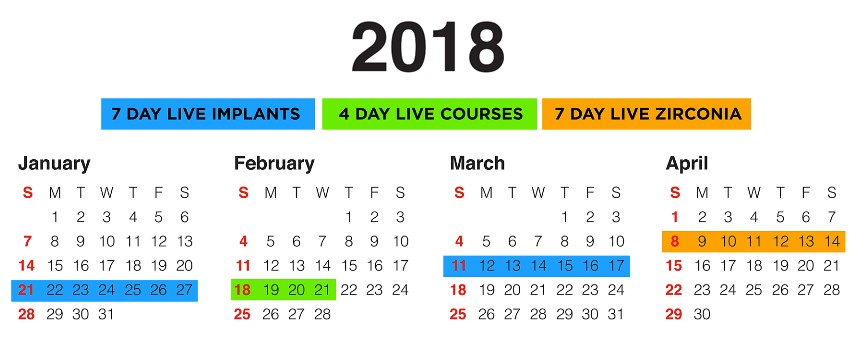 Each doctor will place up to 25+ implants on patients.
There is no prerequisite for any courses listed (no continuum, no maxi course and no didactic course).
We have the lowest student to faculty ratio. Every 2 students having 1 faculty member for their training.
Course will be held in Managua, Nicaragua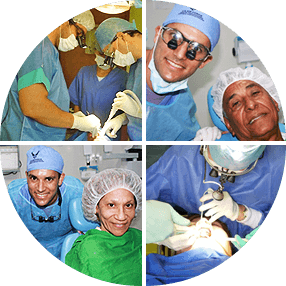 We are the only course that staff U.S. Board Certified Oral Maxillofacial Surgeons and International Board Certified Oral Maxillofacial Surgeons.
This is the only course that fulfills requirements for ICOI Fellowship, AAIP Fellowship and the Royal College of Dental Surgeons.
Download Registration Form
Registration Fee: $14,500