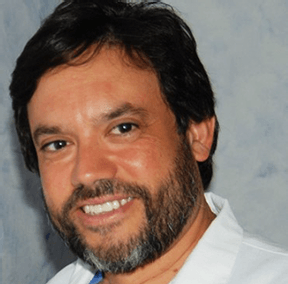 Is a pioneer in the field of implant education by introducing Live Implant Training courses to the dental community in 2007. These courses were created to train licensed dentists from all over the world who will learn surgical techniques while working on patients under direct supervision of accredited professors. Dr. Mongalo is the Chairman and Clinical Director of Live Implant Training courses conducted in Brazil, Dominican Republic, Mexico, and Nicaragua. This approach to teaching has been well received by the dental community in seven years we have trained over 700 dentists and sold out 64 courses.
Past teaching appointments include: Associate professor of implant dentistry at the University of Florida department of advanced education in Florida, Adjunct faculty and clinical director of computer guided courses taught at Georgia Regents University department of oral and maxillofacial surgery. Augusta, Georgia. Licensed dentists from USA and Canada learned computer guided surgical protocols operating on patients under supervision of Dr. Mongalo and GRU oral surgeons. Dr. Mongalo served as Co-chairman of Robert Morgan Implant Institute in Miami andimplant prosthetic course director of maxi-course taught at the University of Miami department of oral and maxillofacial surgery.
Currently holds the positions of board member to the American Academy of Implant Prosthodontists assisting the Academy in the credentialing of new members into Fellows and Masters and appointed Ambassador to the International Congress of Oral Implantology. Dr. Mongalo has been in private practice in South Florida since 1991 exclusive to implant dentistry, placing and restoring implants. During this time Dr. Mongalo has placed over 15,000 dental implants.
He learned full arch immediate loading surgical-prosthetic techniques and computer guided surgeries under the tutelage of Dr. Tom Balshi at the Institute for Facial Aesthetics in Forth Washington, Philadelphia. In 1991 he was awarded a Doctorate in Medical Dentistry from the University Of Florida School Of Dentistry in Gainesville, Florida. In 1985 Dr. Mongalo earned a BS with major in marine biology with a minor in chemistry from Nicholls State University in Louisiana.
Fellow, Master and Diplomat of the ICOI
Fellow and Master of the AAIP
Fellow of Pierre Lafurache Academy
Dr. Mongalo has published two books on oral implantology and is working on his third surgical textbook scheduled to be published in 2016. Lives in Florida with wife and six children.